---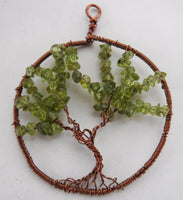 PERIDOT is the bright green birthstone for August. This pretty stone has a variety of metaphysical properties. For many it represents renewal, rebirth, and growth. Others view Peridot as a healing crystal, useful for reducing stress, irritation, and anger.

This pendant features a copper wire "Tree-of-Life" has branches bearing many natural PERIDOT chips weighing about 18 carats. It measures about 2 inches in diameter and can be ordered as a pendant only or together with Black or White satin cord for a small additional charge.

Note: Our pieces are individually handcrafted so there may be some small variations in size and/or color of the materials used from those pictured.
Disclaimer: All crystal and gemstone healing and Holistic/metaphysical descriptions provided are not intended to imply or guarantee any effect or treatment. Those with an illness or health/wellness issues should consult with their General Medical Practitioner.