---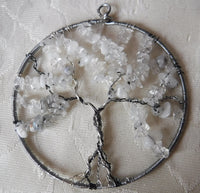 This pretty
Suncatcher
is about
3 1/4 inches
in diameter. It represents a "
Tree-of-Life
" with a Winter theme. The body of the tree and the frame are made using silverplated copper wire. The "leaves" are "snow covered" branches represented by numerous small white 
Quartz 
and 
Moonstone
 chips. The suncatcher has a loop at the top for easy hanging. The gemstones provide a pretty sparkling effect in sunlight. Truely a lovely one-of-kind piece!  
If you are interested in a custom size or other gemstone options send us an email: CrystalsinCopper@yahoo.com.
Note: Our pieces are individually handcrafted so there may be some small variation in size and/or color of the materials used from those pictured. The copper wire we use has a fine enamel coating to help keep it from tarnishing. This thin film does not affect the copper's conductivity or metaphysical properties.
Disclaimer: All crystal and gemstone healing and Holistic/metaphysical descriptions provided are not intended to imply or guarantee any effect or treatment. Those with an illness or health/wellness issues should consult with their General Medical Practitioner.